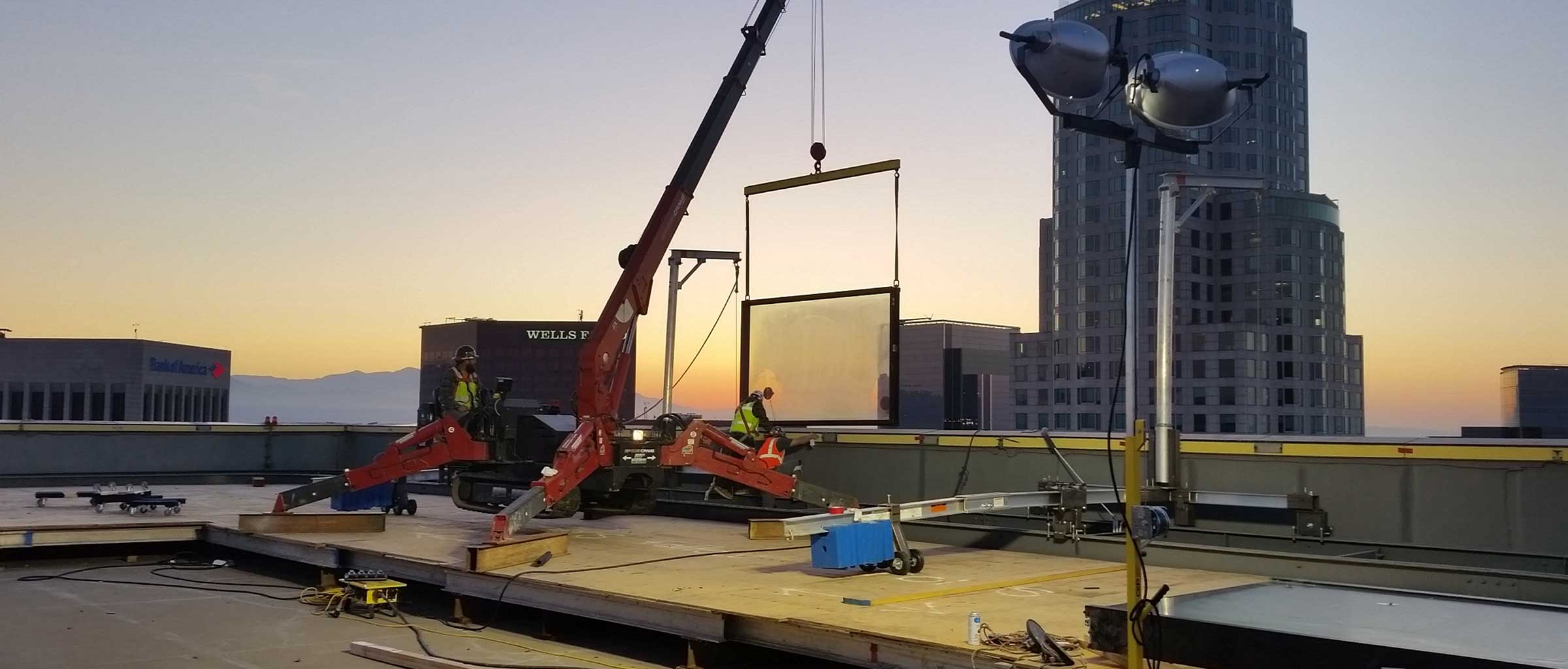 Paul Hastings Tower
Project Scope and Description
Originally known as the ARCO Towers, City National Plaza in downtown Los Angeles is now home to the Paul Hastings Tower. Both buildings in this set of twin 52-story skyscrapers were completed in 1972 and designed by AC Martin & Associates. 
The buildings may reflect each other in their design, but it was only the Paul Hastings tower that our team was tasked with upgrading—replacing old pieces of bronze glass on the 51st floor, as well as granite blocks on the 52nd floor with ultra-clear, low-iron Starphire glass. 
These improvements to the top floors of the building—which boast 16-foot ceilings, an open-air patio, a large skylight, and panoramic views of the city—were required to upgrade the space for higher-end tenants.
Our Process
Our crew installed 140 glass panels in three different sizes to wrap around the north, south, and east sides of the building's 51st and 52nd floors. Each panel weighed approximately 800 pounds.
To complete this challenging project, the team had to find a way to get 10′ X 7′ glass units to the roof of the building without use of the freight elevator, which was too small to fit them. Our team's solution? A large crane set with two thick wire cables to transport glass and other materials from the ground floor to the rooftop. 
The remaining equipment was transferred up the freight elevators, through an open skylight, and onto the roof, where glaziers used a swing stage for glass installation.
Our team in Los Angeles worked tirelessly, putting in some long days and 80-hour work weeks, but the results were stunning and well worth the effort. The new glass-wrapped stories provide the tenants with truly astonishing unobstructed views.
In fact, from far away, it looks as if there isn't any glass installed at all.
"This was one of the more challenging projects I've ever done."
– Mike Duren, superintendent
Our Partners
General Contractor: Pankow
Suppliers: Viracon who fabricated the glass, and Arcadia who fabricated the aluminum framing and provided CAD drawings of the 52nd floor.
Advantage Metal Service
Arcadia Inc
C & J Industries
C.R. Laurence
C2 Imaging
Coast Aluminum & Archt-(Cod)
Downs Crane & Hoist Co, Inc
Elevator Llc
Gerard Homer & Assoc
Hilti, Inc
Inter-Sky, Inc.
Jlm Wholesale, Inc
Jones Lumber Co Inc
King Equipment Llc
Kraig'S Certified Mobile
Lindblade Metalworks
Mcmaster-Carr Supply Co
Progressive Fastening System
Scheu Steel Supply
Smalley & Co
Southern Aluminum Finishing
Spydercrane Sales
Sunshine Supply Co., Inc
Suspended Accessories Llc
Technical Glass Products
Toft, De Nevers & Lee
Tools-R-Us, Inc
Trulite Glass & Aluminum
Viracon